Legacy Greenscapes, the nonprofit created to operate and maintain Legacy Grove park in Winchester, has hired Deborah Jackson as its first executive director. Jackson, who has a background in public health, fundraising, and park management, will develop a strategic plan, programming, and operations for the nonprofit.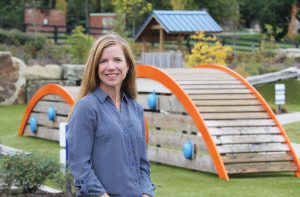 "I am so excited to build this organization from the ground up," Jackson said. "One of the goals for Legacy Grove is to ensure it will continue to be a place of healing for the community, as it was when the hospital was located there. I have a lot of ideas for programming to promote that sense of healing, bring people from all backgrounds together, promote health, and community."
In this role, Jackson will put to work what she learned at National Recreation and Parks Association Directors School. The two-year program teaches effective leadership, how to navigate emerging challenges, improve operations and maximize positive impact on communities. Jackson most recently served as director of programming and marketing for Winchester-Clark County Parks and Recreation.
"Deborah's passion for community, parks, and people is clear," said Cicely Dore, Legacy Greenscapes board chair. "Her leadership during the organization's infancy will set the foundation for generations to enjoy a clean, safe, fun and beautiful park. We are proud to have her on our team."
Legacy Grove is a 30-acre park designed with input from more than 200 community members. The Greater Clark Foundation (GCF) repurposed the hospital site into the beautiful public space as an enduring gift for the community. Until this point, Beth Jones, program officer with GCF, has served as interim executive director of Legacy Greenscapes.
The nonprofit has been quietly working behind the scenes as Legacy Grove park is constructed. Legacy Greenscapes will also act as the fundraising arm to support Legacy Grove and its activities.
Construction of Legacy Grove is nearly final. Once the pandemic is over, the nonprofit hopes to provide educational and recreational activities for community members, including Clark County students. For now, those efforts are digital in nature.