Great communities have great public spaces!
Join us for the 2022 GoodGiving Challenge!!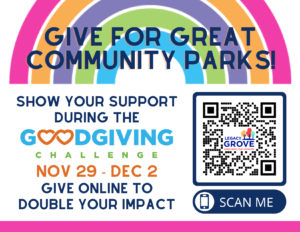 Public parks such as Legacy Grove raise the quality of life and well-being in our community. They promote recreation and a connection to the outdoors, close-knit social groups, and provide a source of pride for community members.
An investment in Legacy Greenscapes is an investment in our community. Your donation will ensure the people of Clark and surrounding counties have clean, fun, and free public spaces for generations to come.
It's Legacy Greenscapes' mission to preserve this great public space and we need your help. Together, we can leave a lasting legacy for the future generations of Clark and surrounding counties.
We rely on donations to operate this publicly supported park. Your contributions are an investment in the health and well-being of our community.
To discuss planned giving options, please contact Deborah Jackson at djackson@legacygreenscapes.org. We will be happy to discuss your options with you!