THE LEGACY GIVING
COMMEMORATIVE BENCH PROGRAM
The Legacy Giving Commemorative Bench Program allows our supporters to honor the life of a friend or family member and provide an attractive and useful amenity to the park and its green spaces. Legacy Greenscapes (LG) strives to maintain a diverse and user-friendly experience throughout our parks system. LG has identified 6 locations for bench installations following current park needs, activities, and plans.
Bench Selection and Engraving: For the sake of conformity in appearance and quality of the product necessary for installation in a public space, the LG board has identified the specific bench that will be installed on park grounds. The approved style of bench is the KirbyBuilt Hampton Bench pictured below: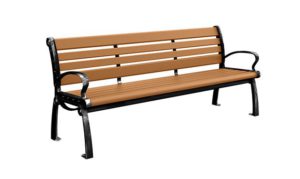 Cost of bench purchase and installation: $2,500 
Commemorative 8×2 inch cast bronze plaque on the top board of the Bench: $175 – $200
APPLICATION TO PURCHASE A LEGACY GROVE COMMEMORATIVE BENCH 
LG Staff will maintain the Memorial Bench to the standards for all park amenities. LG agrees to make every reasonable effort to maintain the bench in the same manner; it maintains other installed benches but will not be responsible or liable for theft, acts of nature, vandalism, or other actions causing damage to the bench. At LG's sole and absolute discretion, the non-profit may replace or repair the bench but shall have no obligation to replace or repair it.