Join us for an afternoon of eco-friendly crafts and activities!!
Join Legacy Grove for a celebration of Earth Day on April 22nd from 2-6 PM. LIVE MUSIC from 4-6PM!
Earth Day Crafts, Book Walk, Bird Exploration, Seed Planting
Tree Discovery, iNaturalist App Instruction, Scavenger Hunt, Earth Day BINGO
Watershed Investigation, Litter Pick Up, Free Tree Saplings (while supplies last)
All activities provided free to the public from your Earth Day Team: 
Legacy Greenscapes, Clark County Cooperative Extension, Lower Howard's Creek
Clark County Public Library, Nature Reliance School, Environmental Education Leadership Corps
City of Winchester, Stormwater, Winchester-Clark County Farmers Market
Full Circle Market, Sekisui, WIN Environmental Education Network, Winchester-Clark County Parks and Recreation, Erin Sliney, Singer/Songwriter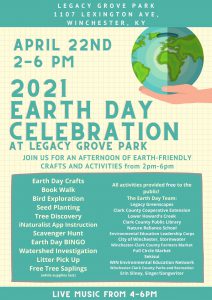 This event will abide by all COVID-19 precautions. Participants must bring a mask and be prepared to wear it if they are in an area where social distancing is difficult.